The global technology company Schaeffler inaugurated its first manufacturing facility in Russia. The Schaeffler Group will deliver high-quality products to domestic and overseas automobile manufacturers and the railway industry from its new production plant in Ulyanovsk.
The city's mayor Marina Bespalova was in attendance at the opening ceremony together with representatives of Ulyanovsk's regional administration and members of the Schaeffler Executive Board. Mikhail Volkov, General Director of Schaeffler Manufacturing RU, was presented with a symbolic key to the new production plant during the ceremony. Following the cutting of the ribbon, the guests celebrated the official plant startup and the beginning of production.
This was followed by a tour of the plant, during which the guests were able to get a first-hand look at Schaeffler's production. Production at the new plant is based on the Schaeffler Group's high worldwide occupational safety and environmental protection standards. The plant is currently producing clutches and manual transmission components on two production lines, and the production of tapered roller bearings for use in the "Sapsan"and "Lastotschka" electric trains is set to begin at the end of 2014.
Sergey Morozov, governor of the Ulyanovsk region, had this to say: "A new manufacturing facility is not only a new industrial complex, it also creates new jobs, which is especially important for our region." The manufacturing facility currently has over 100 employees with a total of around 300 jobs planned. Schaeffler also places immense value on the training and specialist expertise of its employees: Many have already attended training courses at Schaeffler plants in Germany, France, Hungary, Slovakia, and Great Britain.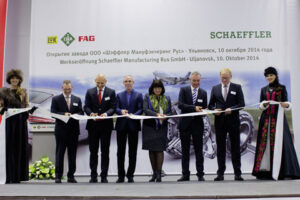 Dietmar Heinrich, CEO Europe at Schaeffler, had this to say: "The opening of the new plant in Ulyanovsk will strengthen our company's position on the Russian market. Local production allows us to get closer to our customers and to consumers in Russia, and thus to respond as fast as possible to the demands of the market."
About:
Schaeffler with its product brands INA, LuK and FAG is a leading global provider of rolling bearing and plain bearing solutions and of linear and direct drive technology, as well as a renowned supplier to the automotive industry of high-precision products and systems for engines, transmissions and chassis. The group of companies with operations around the world generated revenue of approximately 11.2 billion Euros in 2013. With more than 80,000 employees worldwide, Schaeffler is one of the largest German and European technology companies in family ownership. With approximately 170 locations in 49 countries, Schaeffler has a worldwide network of manufacturing locations, research and development facilities, sales companies, engineering offices, and training centers.